BUTTER FLY is a single for everyone who loves a lyrical artist with a hybridized style. "The song was written and influenced by the beat, which was Prod. by Tar$an because I found it to be abstract and that is more of what I am inclined to feel a vibe off of and want to see how creative I can get with the beat and my lyrics." The more distinctive a beat, is where BJordan feels it will move people, she wants her lyrics to be just as memorable and animated, combine the two and that's her idea of a song worth listening to. Being a versatile and conscious artist she write's music to show that there's artists who still enjoy having fun with music in wordplay while still having context, so listeners have something meaningful to enjoy.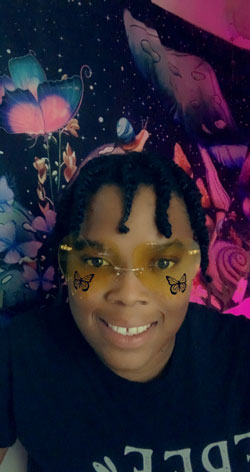 The name of the song BUTTER FLY is a play on, and based on her unique lyrical design, the way butterflies have unique designs. "Butter" being old NY slang for dope and Fly because of her continuous strive to elevate in life and lyric. Although, she does write music about serious situations such as her lyric mentioning her debut single called "The Principle" "I'm all about the principles, I follow them like rituals…." demonstrating how she creates songs people can resonate with from experience as well as music for people just to vibe to on a lyrical aspect and nod their head to.
The song BUTTER FLY is available to stream on all music platforms. BJordan has a new single to be on the lookout for to be released on June 19th 2023 called Adios. BJordan, born Brittany Cassandra Jordan, in Queens, grew up in Greenville, N.C. and Bed-Stuy NY. BJordan is a Musician; Songwriter/Lyricist and entrepreneur. Her all-time favorite artist is Michael Jackson but she was also heavily influenced by artists like MC Lyte, KRS One, Queen Latifah, Tupac, Missy Elliot, Remy Ma, Common, and Mos Def.
Growing up in New York is where BJordan began writing poetry which expanded into writing songs, either expressive of life, or for fun using literary wordplay. After graduating high school, she served in the United States Army for 9.5 years. Since separating from the Army in 2019 BJordan has been able to fully focus on her creative energy as an artistic philanthropist and obtain her Bachelor's Degree in communications. BJordan launched her own record label in 2020 called BJordanSounds, Starving Artist Concepts.
BJordan is a music addict, infatuated with all genres from growing up listening to everything from the early 1920s's to 90's Hiphop and Pop. BJordan's goal is to continue to preserve female lyricists on the global radar and break the mold by being bold and creating songs with universal concepts delivered with unique wordplay. BJordan's instilled values and morals of social responsibility and unity, is a major contributor to her music and her compassion towards a utopian society. Through her dedication of gaining knowledge and skills through her studies and experience, BJordan is apt to bring value to everyone; with the goal to assist individuals to be successful in their ambitions and create generational wealth.
"By reflecting on how we can positively contribute to one another by building fruitful relationships we can achieve a more unified and prosperous society, and music definitely helps" ~ BJordan. "The journey of life is difficult. Find something you love, have a passion for; use that to enjoy the world."
OFFICIAL LINKS:
https://withkoji.com/@BJordanSounds
https://bjordansounds.bandzoogle.com/home
https://youtu.be/n3sQoC3Een4
https://on.soundcloud.com/EsoPHSp6gota5k8BA
https://music.amazon.com/albums/B0BYN4VLZT?marketplaceId=ATVPDKIKX0DER&musicTerritory=US&ref=dm_sh_gNUAmddBQmfRO7MjqL0CMBmTc
https://open.spotify.com/album/5q544gwuAuMCpNPXzohHzs?si=nRdda8JtQ9CsCWwnMT8IBw