Treez has dropped the single "D.O.P.E", produced by Butla Beats from his "The Life Of Treez – The Hustler" mixtape.  To me this era's emcees are dead, recycled and washed up, but the production is extremely good. So what hip-hop really needs are storytellers and lyricists who can match the music to make the formula work. I've listened to this mixtape a few times now, and the first run through caught me off guard. But now I can say that Treez has done a great job on "The Life Of Treez – The Hustler", where he opens up about his life and other things going on right now. Of course, his production is on point with a ton of crazy songs – "D.O.P.E" being just one of them.
Treez is not attempting to be the most conscious lyricist out there but with a combination of some great production and his unique way of flowing and putting simple words together to make it sound catchy, puts his music over the top. The most important part I feel about this song, and the mixtape on the whole, is Treez doesn't step away from what he's been doing in the game. He just makes it sound better.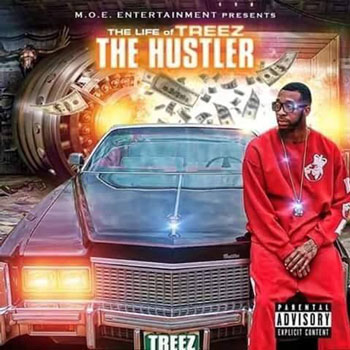 I feel like it's impossible to not like Treez. His lyrics are charming tales of hustling and grinding.  Everything that comes out of his mouth sounds like real talk. "D.O.P.E" is a very tight song too, and that only adds to the pleasure of listening to the entire mixtape, which on the whole, is so much better than a lot of the other mainstream hip-hop albums that are out right now!
Treez born Christopher James Cohen was raised in a small neighborhood called Needmore Community, located in Greer South Carolina in 1984, in a single parent home with two older siblings. Being raised in a single parent home he witnessed the struggle face to face. Treez started out hustling candy bars at an early age to help his mother out on bills and small things around the house. He was raised up around music all his life.
His aunt ran a liquor house so music was always a part of his life. After being shot and almost losing his life, having run-ins with the law an overcoming it all, Treez found himself with a lot of time on his hands and one hell of a story to tell.  He says he is blessed in so many ways.
"Music is a gateway to people, so listening to my music hopefully helps someone or just motivates somebody to never give up," says Treez. "God will never put more on you than you can handle. Hear my testimony thru my music."
OFFICIAL LINKS: BDE Marketing – YouTube – Stream/Download