You often hear the same complaints thrown at contemporary electronic music. It's too much alike. It's too repetitive. It's too sterile and icy. It doesn't feel authentic and warm enough. Well, for those who feel this way, please direct yourself to the new EP, "Man in the Middle", by Paris-based electronic artist, VINGT HEURES TRENTE. He draws inspiration from the sounds and aesthetics of the early 80's, where the melancholic warmth of the declining analog era encountered the early experiments of the digital age. VINGT mainly uses analog and modular synthesizers to craft ambient and experimental music. The use of these instruments denote the absence of any memory to recall settings, obliging VINGT HEURES TRENTE to record discovered sounds instantaneously.
 VINGT HEURES TRENTE's debut EP, "Man in the Middle", is described as striving to depict the constant struggle to find a precarious balance in one's life, between childhood and maturity, urges and frustrations, or individuality and society. The EP immediately radiates warmth though the opening track "40". With its deep bass lines, heartbeat drums and resonating synths, the song is such an intriguing and seductive way to start the record and one that draws you in, eager to hear more.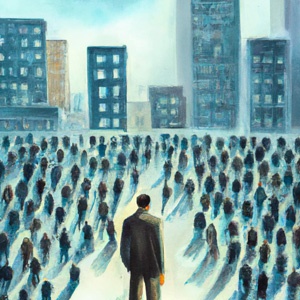 Everything in "Man in the Middle feels like a planned procedure, there are no sounds inserted anywhere just to make sense, everything is exactly where it should and needs to be, to enhance the musical storytelling taking place. Getting lost in the sonic sweep of "Middle" is far too easy, as it ebbs and flows on a hypnotic electro tide. This is music that can possess you. It adopts the style of hitting one chord and leaving the notes hanging there, until it mesmerizes you. It's immensely immersive, even for the uninitiated.
"Alone In The Crowd" opens with a field recording before succumbing to a dynamic arpeggiating rhythm that steadily builds in intensity while it expands in sound. VINGT HEURES TRENTE has crafted an emotionally-stirring, calculated epic of slapping electronica on this track. There are ominous tones and cautionary messages contained in nearly every bar, as the arrangement throbs with sonic energy and rhythmic verve. This is how it feels when you find yourself alone and disorientated in a disturbing world.
The foreboding "Random Thoughts At Night", holds some of the EP's most chilling moments. At times it sounds like the soundtrack to a movie that doesn't exist, and it is certainly highly evocative. It is arresting without being aggressive, and interesting without being attention seeking. It is a recording bursting with personality and it is anything but background music. Indeed, there is enough unsettling audio ambiguity here to connote all sorts of peculiar images in the listener's mind.
It's a remarkable closing segment, one that finds VINGT HEURES TRENTE toying with expectations and teasing out possibilities, exploring prospects and casting his mind towards the unknown in a beat-less, slowly swirling sonic aesthetic. His vision walks a fine line between desolation and hope. Overall, the atmospheres and natural envelopes of each instrumental on "Man in the Middle flourishes in an organic way that makes it a shining ingredient of the recording.
Amid the analog machinery, VINGT HEURES TRENTE contributes genuine human insight and powerful, emotional impact. "Man in the Middle resembles a turn of cinematic ambient sounds into the depths of intelligent experimental music.