Cody Slingerland is Alter Heart an independent artist, based out of Rochester, NY. He creates all his own music – including the instrumentals, melodies, lyrics, composition, and production. He even designed his website and album cover. The fact that Alter Heart is a completely independent every aspect of his creations, is something he is very proud of. "Alter Heart is a representation of myself," he says, "and being able to create every aspect of the album, I believe is a huge accomplishment that I am very proud of. I believe the music is unique and deserves to be heard."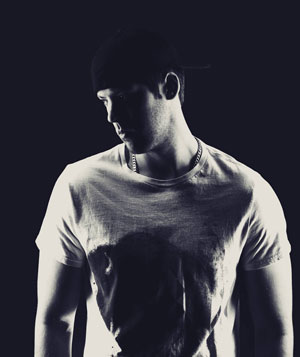 His album "Four Years", releasing the 7th of July, features five full-length songs and two instrumental tracks. Many of the songs on the album were written about four years ago and have evolved since into this final release. Each of the songs features Alter Heart rapping, as well as having featured vocalist, who he brought on to bring each track to life.
The featured singers include a finalist on The Voice, Australia, and the lead singer of the band, Halocene, whose videos on YouTube have racked up over 1.5 million views.
From the album, Alter Heart has dropped the single, "Not Real (feat. Rashon Medlock)", which will gain a deep appreciation for his writing skills, both lyrically and musically. The track is an amazing piece of dark electronica and alternative-hiphop that will have a huge appeal while at the same time make listeners think and feel.
With bass, synth, and orchestral hooks that blow your mind, this masterpiece builds into an emotional catharsis that can only be released by its audience dancing and singing along wildly by the end.
The grinding and wailing synths are hypnotizing and intense, as Rashon Medlock's sterling vocals soar above the soundscape. It's not long before Alter Heart cuts in with some aggressive bars and a mesmerizing flow to contrast the melody, thus blending both the dark and the sweet tones into an intelligent, innovative and moody addiction.
It's not a song specifically written for the mainstream, but it is extremely accessible to the mainstream audience – it has the hook, it has the beat, the vocals, and the emcee!
"Not Real (feat. Rashon Medlock)" shuffles along with an almost menacing swagger, spotlighting a killer chord progression and a pulsating electronic groove…and now get ready for the album!
OFFICIAL LINKS: WEBSITE – SOUNDCLOUD – FACEBOOK – YOUTUBE