"Three BC" — In a Trance is The Reds® eccentric, reclusive keyboardist Bruce Cohen's third solo album in his continuing series of instrumental ventures. His earlier albums, "One BC" and "Two BC", both explored the various genres of electronic music with every track inspired by a story or theme. Cohen's inspiration for this album surfaced after his record label suggested he create a couple of EDM tracks for his next project and he agreed to explore the idea. The result was Cohen enjoyed writing the material so much that before he realized it he had enough songs to present an entire album to the label. Even though Three BC has twelve stand-alone tracks, the album plays like a twelve-song suite. His approach to composing on Three BC is much different than his earlier albums where his love of film comes through with an almost cinematic quality with a lush, ambient theme behind each song. Three BC focuses on the popular, and somewhat controversial, EDM genre that's all about the beat. Cohen's quirky stamp of electronic keyboard scrapes and grooves, combined with his rubbery bass playing, gives the genre a unique twist.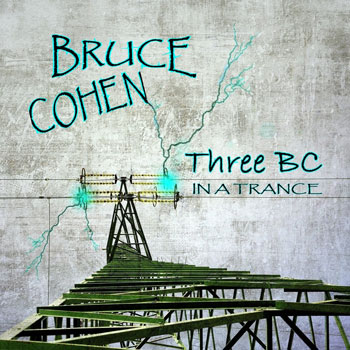 On tracks "Blue Stomp", "Shoot First", and "Dead On" the keyboards and sounds set the tone, but the beat and bass provide the anchor creating some pure danceable pleasure. "Happy Dog", "Witches Brew" and "Just Be Boom" are tracks where the beats and drums start the song, while the keyboards and those Cohen noises sweep in and out along with the big bass. To add something diverse on This is the One Cohen brought in Peter Lucas, the guitarist from Big Fun 3, to play some vicious metal chords, knowing that Lucas's imitable thrashing style would compliment the bass and drums. Cohen provides the experience of one relentless groove on the other tracks with the common thread throughout being his technique of layering and building the keyboards on top of keyboards that meld into one spacial sound. With an array of synths both hard and soft he auditioned hundreds of sounds until he found just the right ones to perfectly fit within each song. His approach to the beats and bass were worked through the same way until he found exactly what he wanted to hear.
While most EDM artists are DJ's or producers, Cohen attacked the genre from a keyboardist's perspective, and he found it fascinating to create in a new way. Recording in a genre outside his comfort zone was challenging, but ultimately very rewarding. The album has become his best work yet, and make no mistake about it, Three BC is an EDM party album, so put on your earbuds and dancing shoes because it's Cohen's party and everyone is invited.
OFFICIAL LINKS: WEBSITE – CDBABY – SOUNDCLOUD
MORE ABOUT:
Bruce Cohen is a founding member of the Philadelphia band, The Reds®, whose first album on A&M, entitled "The Reds," is a combination of textures dense with electronic chaos brought to the edge of madness. The album, produced by David Kershenbaum, showed the band's impressive sound . . . a blend of Rick Shaffer's guitar, and Bruce Cohen's keyboards, into an interestingly textured drone, short guitar and keyboard figures, rising then disappearing back into the drone, while Shaffer's voice provides the punch and definition for their overall sound. The album was supported with live appearances with such diverse acts as The Police, Joe Jackson, Blondie, The Ramones, The Psychedelic Furs, and Public Image. An EP, Green With Envy, followed featuring The Doors song, "Break On Through," which suggests some of the band's roots. (Universal Music digitally re-released The Reds, and Green With Envy, August 2012.) After leaving A&M, The Reds® went forward with two indie albums, "Stronger Silence" and "Fatal Slide" (Stony Plain/RCA), that continued The Reds® sound, receiving critical acclaim internationally.
They next recorded a tense and powerful album for Sire/WB entitled, "Shake Appeal," produced by Mike Thorne (Blur, Soft Cell, Wire). This forcible record led the band to work with director/producer, Michael Mann. Mann incorporated numerous Reds songs into episodes of Miami Vice. The impact of the songs led Mann to hire Cohen and Shaffer to write songs and score for two motion pictures, "Band Of The Hand" (Tri-Star) and "Manhunter" (De Laurentiis), based on the novel "Red Dragon." Soundtrack albums from both films were released on MCA, a "Manhunter" CD (with an added Reds track, "Jogger's Stakeout"), was released by Intrada Records, March 2010, and Universal Music released both albums digitally in August 2012. (Band Of The Hand includes the title track written by Bob Dylan, and performed with Tom Petty and the Heartbreakers.)
Solo projects at this time for Cohen included writing score for the productions, "Dr. Jekyll & Mr. Hyde" and "Down The Road" at Philadelphia's Walnut Theatre; "The Speckled Band," starring Quentin Crisp, and Charles Busch' play, "Vampire Lesbians Of Sodom" for NYC's Pulse Theatre Company; and a forty minute electronic film noir piece for "Goodbye Johnny Staccato."
The Reds® next album, "Cry Tomorrow" (Tarock) reunited them with British producer Mike Thorne. It captures the driving intensity of earlier albums and the ambient, atmospheric feel from their film scores, resulting in a stark, surreal album, with a sense of mood and mystery. The pulsing opening track, "Terror In My Heart," was featured in the film, "Nightmare On Elm Street 2" (New Line), directed by Jack Shoulder.
In 2007, the critically acclaimed album, "Fugitives From The Laughing House" (Tarock) was released. Written and produced by The Reds®, the album is a straight forward raw nerve reflection of life in America. In 2008, "Lethal Dose" inspired British director, Peter McAdam, to shoot an independent film short, also entitled, Lethal Dose.
The Reds® February 2009 release, "Early Nothing" (Tarock), was also written and produced by Cohen and Shaffer. The album has a hypnotic quality, that leaves the listener free to let their subconscious play itself out, no matter where it goes, while maintaining the simplicity of the moment. This album again inspired McAdam to create a film short of, "So Long."
In a totally different genre side project, Cohen, along with Rik Myers (guitar), and Brandon Cruz (drums), formed a heavy, psychedelic, Hammond organ jazz trio, called Big Fun 3. The Miami based group is signed to Ropeadope Records. In 2013 Big Fun 3.2 was released with new members Peter "Babe" Lucas, and Tony Foster. Followed by another album, Fade Out, in July 2014.
For his solo endeavors, Cohen likes to experiment with German electronic minimalism, and the atmospheric landscape of ambient textures. His first solo album, "One BC" (Tarock), was released August 2009, and contains all atmospheric, ambient instrumentals in the tradition and style of Brian Eno, Peter Gabriel and Klaus Schulze.
His 2011 solo venture, "Two BC" (Tarock), expands on his earlier ambient themes, yet are even more experimental, and danceable. The album contains tracks that go from spacial, lush, ambient soundscapes, to metal space funk, with every track receiving the special Bruce Cohen treatment.
Cohen's 2015 release, "Three BC — In A Trance," focuses on the popular EDM/Trance genre that's all about the beat. Cohen's quirky stamp of electronic keyboard scrapes and grooves, combined with his rubbery bass playing, gives the genre a unique twist.