Only a few years back, someone asked, 'who is the Best Rapper in Panama City?' The man in focus was J-CooL, the hip-hop, indie pop and Soul R&B artist, who has now put the debate to rest with the drop of the music video for his new mix tape, 'Stay Consistent', his first official music video.
Produced by Fourtune Ave and directed by Fool With The Camera, 'Stay Consistent' is the debut J-CooL aka The Purple Prince was hoping for, with a professional cut and level that matches his expectations. The video is now live on Vevo, YouTube and Worldstar.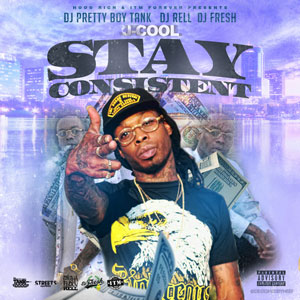 "We need to hear this everywhere!! This is your best track yet," says one listener. J-CooL comes out in the soundtrack as either a born talented natural or an alien from outside, but certainly an unparalleled force. His lyric delivery and energy remains unmatched, testified by thousands of downloads by his growing fan base.
J-CooL's versatility never fails to impress, making a fan say, "My girlfriend showed me your page. Good shit!" His most recent repertoire includes tracks such as 'Action' (filmed in Panama City), 'Couple Cold Chains', 'Let me tell you bout', and the mix tape, 'Money, Power, & Snow Bunnies'.
Originally from Valdosta, Georgia, J-CooL is based in Panama City, Florida. As a new kid on the scene, his presence guarantees the friction, heat and fire every dance floor thirsts for. He brings to the association a creative and uncompromising spirit with an unbounded range of imagination.
"About time you released something like this. I've still been bumpin, I love it," said a fan. The Purple Prince seemed to have felt the same, and his best is yet to come.
J-CooL – Stay Consistent (music video)
http://www.worldstarhiphop.com/videos/video.php?v=wshhyOTkbiSY5ISM05pf
Stay Consistent Mixtape (DOWNLOAD LINK)
http://www.datpiff.com/J-CooL-aka-The-Purple-Prince-Stay-Consistent-mixtape.845990.html
Stay Consistent Album Purchase CD Baby
https://www.cdbaby.com/cd/jcool22
J-CooL Official website
www.jcoolmusic.net