A charismatic multi-instrumentalist and singer from the Ivory Coast in West Africa named Twenty Two B is taking significant strides towards becoming a household name with the release of his single, "Karma Is A Bitch", a track taken from the album "In The Making". Thanks to Twenty Two B the future of music's past has never looked so bright.
With a striking blend of classic rock, soul, funk and psychedelia, Twenty Two B is already establishing both his retro-rock obsessions and credentials with discerning fans of all those genres. He is honing these influences to an even sharper focus on this single and making it fit for mass consumption by the mainstream music-buying public at large.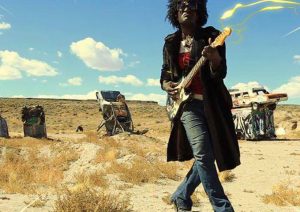 Not that this means predictability. Rather, Twenty Two B's material covers a lot of ground, from hard rock builds to technology-accented drops. And, despite their sometimes powerful eclecticism, most of his songs are careful to prioritize infectious hooks as they walk a fine line between grit and polish.
There is something to be said for Twenty Two B's mix of styles, smooth vocals, and refusal to make bland, generic, contemporary music. His music is like a bag of pick and mix: full of variety, sweet to taste, and will make listeners remember their nostalgic years with fondness.
His tracks are generally radio and club friendly and will make people want to dance. The guitar riffs will please the Rock fans, while the Soul fans will love Twenty Two B's distinctive voice. "Karma Is A Bitch" is a very solid piece of work and will please Twenty Two B's dedicated, as well as potential followers.
MORE ABOUT: Twenty Two B grew up on the Ivory Coast in West Africa. It was a place ravaged by war, and over the years he experienced the loss of family members and friends. The war had such an impact on his homeland that it became a daily fight for survival. Wanting to escape away from this horror and find a better life, he eventually found himself on a plane to Los Angeles.
"War is awful," says Twenty Two B. "You have to find your way out. I got out 10 years ago, but there are still a lot of people stuck in it – people like those children in Syria right now." Currently climbing up the indie charts, "Karma Is A Bitch" is another step in the continuing grind that Twenty Two B has set his mind to.
OFFICIAL LINKS: WEBSITE – TWITTER – SOUNDCLOUD – ITUNES